TTT is now hosted by That Artsy Reader Girl but it began life over at The Broke and the Bookish.
Time for a freebie! Every so often the benevolent ruler of TTT, The Artsy Reader Girl, gifts us with a freebie week where we get to make up our own topic! I always find some of the most interesting book recommendations on freebie weeks so I'm really looking forward to what appears on the other blogs I follow this week.
For my own list I'm going to go for Diverse reads that are on my TBR which I'm really looking forward to! I'm including books that explore various types of diversity: gender, race, sexuality of characters but also own-voices authors.
In the years I've been out of blogging (and up to my eyeballs in poetry instead) SFF publishing has definitely made steps towards diversity, there's so much more out there now and diversity of representation and reading experience can only be a good thing. But there's still a long way to go…
1. City of Strife by Claudie Arsenault
This was a Jesscommendation by @jessticulates as part of her Ace/Aro TBR that she has been developing. But it also features characters who are diverse in terms of race, ethnicity, orientation and gender. I nabbed it for a steal as a Kindle ebook, and I'm really looking forward to it!
2. The Fifth Season by N.K. Jemisin
An own voices book from a woman of colour, Fifth Season is an ecological epic that also explores race and sexuality. That would be enough to make this list, but it's also written by N.K. Jemesin and she's simply marvellous. Each book in this trilogy won the Hugo award, she's extraordinary. I own all of the books in this series, why haven't I read it yet? Mostly because I already know it's going to upset me in that way that wonderful writing can. I'm putting it on my TBR for NEWTS this Autumn so hopefully I'll finally get to it!
3. Wild Beauty/When the Moon was Ours by Anna-Marie McLemore
Another pair that have been on my TBR for a long time again by an own voices author (Anna-Marie McLemore is Mexican-American and LBQT+). I loved their writing in Weight of Feathers, their descriptive prose is wonderfully lush, so I'm really looking forward to these two.
4. The Story of Silence by Alex Myers
I was lucky enough to get an E-arc of this off Netgalley. It features a protagonist who was born a girl but raised as a boy struggled to find their place in the world in a medieval/Arthurian setting. Sold? I am.
5. Mexican Gothic by Silvia Moreno Garcia
There's definitely more room for Latinx authors, particularly in SFF, and I've really enjoyed SMG's previous work. That was enough to put this on my radar and it's been a joy to see her getting the credit her work deserves. Again, I was lucky enough to get an e-Arc of this one so it's high on my TBR.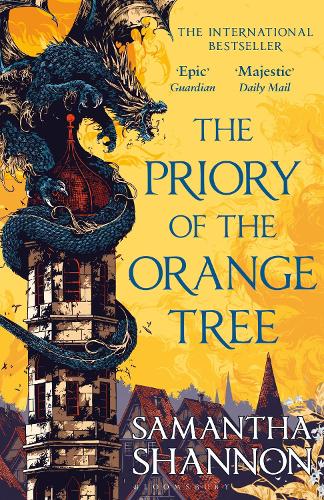 6. The Priory of the Orange Tree by Samantha Shannon
I've not been a huge fan of Shannon's previous work. The Mime Order was decently written but it just wasn't for me. That said, I've heard nothing but good about this one, a true fantasy epic set in a queendom with f/f relationships at the heart of it. I've managed to reserve the ebook of it through Borrowbox so it wont' make my hands ache to read either (its a whopper).
7. Kingdom of Copper by S A Chakroborty
I really enjoyed City of Brass and my favourite thing about it was Chakraborty's setting (I'm desperate for her to go back to Cairo in Book 2 or 3) and her exploration of the mythology of the Djinn which I know shamefully little about.
8. A Closed and Common Orbit by Becky Chambers
LWTaSAP is one of my all time favourite books, Chambers has a way of making me reconsider cultural norms which I would otherwise just accept for granted and her portrayal of Loveday in book one makes me really interested to see how she's doing in book 2. Becky Chambers is an own voices LGBT+ author.
9. Gideon the Ninth by Tamsyn Muir
Another one I nabbed in a Kindle sale after seeing it all over the blogs. Centred around a F/F relationship this one really looks like it will be a blast from the synopsis and it seems like book 2 is getting just as much love.
10. The Sword of Kaigen by M. L. Wang
The only self-published book on my list, Kaigen has had so many good reviews and I definitely want to promote self published authors where I can. I also really need to read more Asian based SFF!